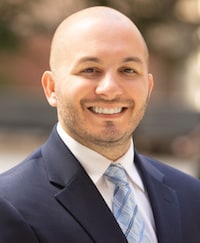 August M. Iorio
August M. Iorio is a securities arbitration attorney with over ten years of experience representing investors. Throughout his career, Mr. Iorio has handled over 600 cases from inception to disposition. He has helped individual investors, groups of individuals, business entities, family offices, credit unions, and institutional investors recover nearly $100 million in investment losses.
Mr. Iorio counsels clients who have suffered financial losses arising out of unsuitable recommendations, material misrepresentations and omissions, failure to disclose conflicts of interest, elder abuse, fraud, and other violations of state and federal securities laws and regulations. He pursues claims nationwide on behalf of investors to recover investment losses.
Mr. Iorio also counsels whistleblowers with credible information regarding fraud or other violations of federal securities laws to preserve eligibility to receive a whistleblower award under the SEC's Whistleblower Program.
In addition, Mr. Iorio's practice includes representing financial professionals who have disputes with their employer or former employer. In 2021, Mr. Iorio helped represent a broker in a breach of contract claim against the broker's former employer that resulted in a multi-million dollar settlement.
Mr. Iorio earned his J.D. from Seattle University School of Law. During law school, he served as a law clerk for the United States Attorney's Office for the Western District of Washington. He also advised small businesses through the Ronald A. Peterson Community Development and Entrepreneurship Law Clinic.
He is also a graduate of the Smeal College of Business at Pennsylvania State University, where he received a Bachelor of Science in Finance. He was a repeated Dean's List Member and also studied international business and political science.
Mr. Iorio uses his dual background in both law and finance to help investors recover investment losses.
Mr. Iorio is admitted to practice law in New York.
Education
J.D., Seattle University School of Law, Seattle, WA, December 2010
B.S., Finance, The Pennsylvania State University, Smeal College of Business, University Park, PA, May 2006
Jurisdictions Admitted to Practice New York, 2011